Page 2 of 2
PLE
SUMMER YELLOWTAIL ARRIVE IN BAHIA ASUNCION EARLY!!! JULY 2017
Capt. Juan Arce Marron reports that the yellowtail have moved into our area and have been
caught trolling and jigging early this season..in late June! There are also lots of white fish, calico & sheepshead as well as species like barracuda which are indicators of an early season for wahoo and dorado! Our guest Taylor caught this nice 30 lb yellowtail and theylimited out quickly on more YT and calicos.
2016 SEASON OFF TO AN EARLY START
August has brought warmer ocean temps and there are yellowtail all over the place now feeding
on sardines. These anglers were happy to fill thier coolers with tails and calico bass to take home.
Our Canadian amigos fished for the first time in the ocean and Kevin caught the first dorado of the season and a bunch of nice yellowtail too!
The yellowtail have arrived earlier than usual again this year as water temps begin to warm up. Anglers from San Diego staying here at the Inn filled the freezer with 18 yellowtail averaging 20 lbs. and lots of nice calicos to bring home too. The weather is perfect with air temps in the los 80's but water temps are still not quite 70. We look forward to a great season again this year!
_____________________________________________________________________
2015
WOOOO HOOO...WAHOO IN ASUNCION AND YELLOWFIN TUNA WITHIN 5 MILES
OFSHORE!!!
Fishing here just got a whole lot better in September with the appearance of yellowfin tuna and lots of big wahoo! Anglers have been getting limits of those as well as yellowtail and calico bass. Local expat Neil Salsbery was so happy with his 70 lb wahoo that he had a resident artist Beth make a fish print to immortalized the monster! The water temps are now over 80 degrees and air temps are in the high 80's and luckily no hurricanes..yet.
SUMMER FISHING GEARING UP EARLY THIS YEAR
Due to another El Nino weather pattern, the ocean temps are much higher than normal so the season got started earlier. There are yellowtail everywhere now in August as well as bonita, big calico, sierra, barracuda and a few dorado and tuna have been spotted. We anticipate an excellent season this fall and look forward to some wahoo too!
Here are some of our guests from August this year.
Shore fishers report lots of corvina, corbina and some halibut on the town and surrounding beaches alike.
Captain Juan Arce Marron is excited about the addition of a new super panga so anglers can go further off shore comfortably and now 4-6 people can easily fish from it!
2015 FISHING JUST KEEPS ON HAPPENING!
The yellowtail & calico bass fishing continues to be good even into May which is very rare for here but this el Nino weather and water temps have had great effects on the fishing. We anticipate an excellent season.
A HURRICANE A WEEK IN SEPTEMBER...brings great fishing! TUNA-WAHOO-DORADO!!
It has been a wild September for hurricanes but once again Asuncion escapes the wrath of the
storms. The worst effects felt here were from Norbert who sent 20' swells crashing onto our beaches which resulted in the formation of a new estuary that already has croaker and shrimp in it!
Here is a video I made of the storm.
https://www.youtube.com/watch?v=8FgfTMroTx4
The storms also pushed pelagic fish close to shore so we are now catching tuna, wahoo and dorado and even some sierra. I have waiting 3 years to pose for this picture!!!
2014 FISHING SEASON NOW UNDERWAY...over a month early!!!
Capt. Juan finally finished the comercial abalone season for our local fishing cooperativa andis gearing up for a great summer/fall season.
The water temps have warmed up over a month early and we are already catching yellowtail which is an excellent indicator for things to come.
this El Nino year promised some fantastic fishing so pray for tuna, wahoo
and dorado amigos!!!
Our first charter July 2nd was a great omen when Dan Doyel from Prescott Arizona hooked a 50 lb white
sea bass 5 minutes after throwing out a rapala. Nobody expected that! He and his wife Jen & daughter had a great day on the water also catching this season's first yellowtails and rounding their limits with nice calico and sand bass.
As always I prepared a fresh sashimi plate for the anglers when they got back to the Inn.
December brings BIG YELLOWTAIL for the Snow Birds!
December in Asuncion yeilds nice big yellowtail much to the delight of the many snow birds
who come here for the holidays. Tim & Barb from Vernon BC were happy with these fish and
the great fishing weather too. They have been enjoying the shore fishing for corvina as well.
FALL FISHING SEASON IN FULL SWING!!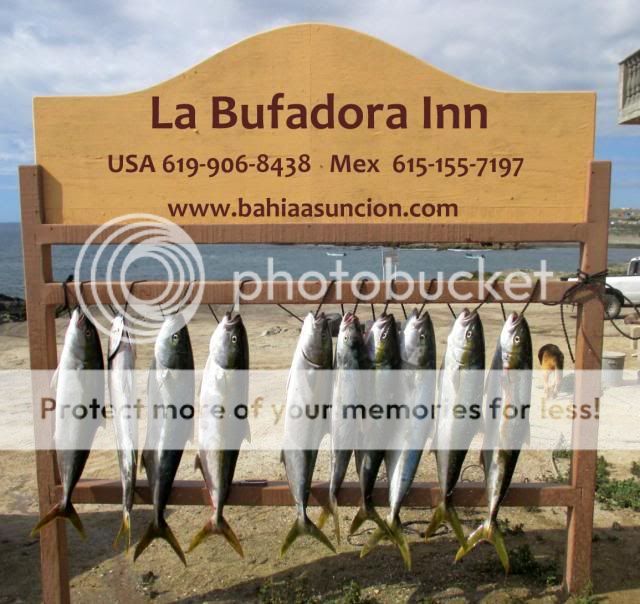 The November fishing has been fine with bigger fish starting to show now. Our good clients Art &
Jesse were happy with their 35 & 45 lb yellowtail and they caught a mixed bag of calico, whitefish, sheepshead and grouper. They also reported excellent shore fishing in front of Campo Sirena. Most anglers have been getting their limits of yellowtail in the 20 lb range.
October is when the best yellowtail fishing begins attracting anglers from all over the continent.
Some good clients of ours who operate a hotel K-38 in Rosarito were back to take advantage of the wide open bite. This time Robert Carmona brought both sons with him Russ & Joseph and they were very successful at bringing in limits of nice fish as well as spearing some nice grouper and halibut...they'll be back next month in hopes of dorado showing up.
Lobster season began Oct.1st which always improves the inshore fishery as the bait in the traps
attracts more fish and we are all excited to have our first fresh lobster dinners of the season!
Captain Juan Arce's day job is fishing for yellowtail for the local cooperativa....which is handy as he can keep an eye on where the fish are day to day. He was surprised to catch a sierra last week!
The fishing cooperativa California de San Igancio held it's annual fishing tournament to raise funds for it's student scholarship program. It was very well attended and organized.
there were over 60 participants for panga and shore fishing catagories and it was a perfect fishing day for everyone.
Ensenadita, the cove by our place...was a great place to hold the event as there is ample parking and no big waves to deal with launching and unloading fish and the kids loved playing in the calm cove.


The feast they put on was fantastic, ceviche, seafood cocktails and BBQ'd yellowtail prepared by the coop volunteers. I loved the BBQ they had set up in the back of a pick up for warming up the tortillas!Miguel who owns the tortilleria and store Doritas won first prize in the calico division.
Here were the prize winning weights and team names...the yellowtail was a fatty at nearly 50 lbs.veryone had a wonderful day and this event is growing and becoming a really popular event and will be held the first weekend in September every year.
COOLER WATER SLOWS THE YELLOWTAIL BITE DOWN
Ocean temps cooled way down this week which has affected the yellowtail bite. But these
anglers from California & Las Vegas were the only fishers that caught yellowtail all week so they were pretty happy with a few tails, calicos and sheepshead.
But the halibut fishing from shore and spearfishing has been HOT! and nice big calicos are still being caught from the rocks and pangas. We hope the fishing improves for this weekend's fishing tournament on Aug.18th, a part of the Traditional Fiestas that run from Aug.15-18.
YELLOWTAIL SEASON UNDERWAY FINALLY...A MONTH EARLY!
Early hurricanes has pushed warm water up to Asuncion a month earlier than usual bringing lots of bait and yellowtail with it. Anglers Leslie and Geoff visiting here for the first time from Loreto were pleasantly surprised to hook into some BIG tails and obtain easy limits of YT and calico in a short time.
Leslie was the fish whisperer of the day as withing 5 minutes of throwing out the rapalla brought in a 50 pound yellowtail that was on the surface very close to shore. Her second fish was over 40 pounds too...what a fisher!
The shore fishing halibut bite is on and big calico bass are being caught both from the rocks and pangas.
So after months of waiting, our fishing season has officially opened here in Bahia Asuncion!!!
DECEMBER IS THE BEST FISHING MONTH OF THE YEAR!!
This December was our best fishing ever with lots of dorado still around till near the end of the
year and the yellowtail just got bigger and bigger. We had a very busy holiday season and all our anglers were very happy with the quantity and quality of nice fish. Here are some of the highlights. The biggest fish of the year was caught on Dec.30 weighing in at 48.7 lbs and most o fthe fish brought in that last week were over 40 lbs...half of them over 45 lbs. which thrilled all our clients. The calico bite was also epic and they also brought in nice bonita, skipjack, baracuda, whitefish and sheepshead.
NOVEMBER FISHING GREAT AS USUAL...LOTS OF YELLOWTAIL & DORADO
You have to fight off the dorado these days to get at the nice yellowtail underneath them! Fishing has been spectacular throughout November with the fish getting bigger every week. Easy limits of yellowtail, big calico, dorado and even some barracuda, wahoo, grouper and bonita.
FLY IN FISHING GROUPS LOVED ASUNCION!!! BEEN A GREAT OCTOBER!

We had 2 fly in fishing groups this month who said it was their best fishing experience
EVER! Some of them are coming back with their families in a few weeks. Our air strip is excellent and the military checks on the planes at night. We can arrange a fly-in fishing charter for you leaving from San Diego.
The yellowtail bite just keeps getting better with bigger fish every week...they are up to about 30 lbs. now. One charter produced 10 different species of fish...yellowtail, dorado, wahoo, bonita, skipjack, calico bass, sand bass, grouper, white fish & halibut.
Mike & Ron have been fishing with us for the last 5 years and Ron caught his personal best yellowtail of 30 lbs this trip while Mike caught his first Wahoo ever!
The shore fishing has been on fire too...these guys caught 6 species in one session.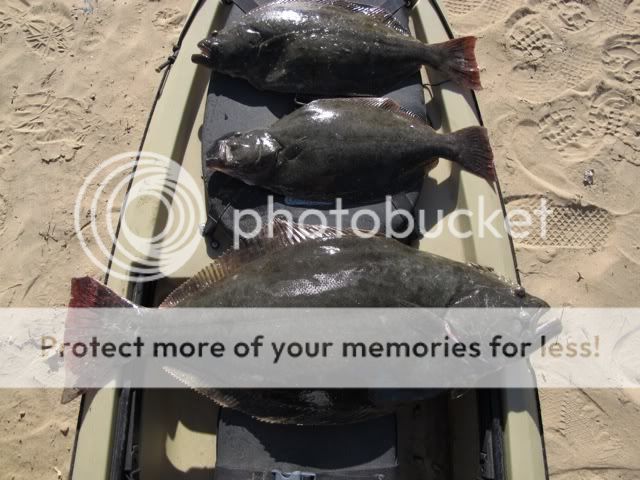 the kayak fishers have also been real happy with their catches of calico, yellowtail and halibut too. The weather has been spectacular...calm seas, not much wind and air temps in the 80's, water temps in the upper 70's...couldnt be nicer!

OCTOBER.... FISHING STARTS GETTING BETTER
Fishing this month has been a real mixed bag with most anglers getting limits of medium size yellowtail and nice big calico as well as bonita, whitefish and some
dorado.
Spear fishermen have seen large schools of yellowtail and even were surprised by some Orcas!
Shore fishing has been smokin hot with fish every cast at sunset of yellowfin croaker, corvina, perch, halibut and yellowtail depending on the beach. Here is my grandson learning to fish with his mom.
SEPTEMBER IS YELLOWTAIL MONTH
The area is thick with yellowtail this month and some are even being caught off the beach now! The shore fishing has been incredible and clients of ours caught 8 different species in a couple hours at Los Choros beach, leopard shard, yellowfin & spotted croaker, corvina, corbina, halibut, and a couple different species of perch...they cancelled a panga fishing trip because their coolers were so full of shore fish!
Panga fishing has been very productive with limits of 15-25 lb yellowtail, big calico bass, bonita and dorado with hopes of the tuna appearing any day now!
ASUNCION ISLAND NATURE TOURS

Visit Asuncion Island to view thousands of sea lions and nesting sea bird colonies. The sea lions crowd around the panga, follow you barking and frolicking beside the boat providing great photographic opportunities. Snorkeling with the sea lions is an adventure to remember as you come face to face with these playful pinnipeds and watch them gracefully glide around you brushing you as they pass. They are as curious about you as you are about them! You may also experience the wonder of dolphins and porpoises surfing your bow wave and playing around the wake of the panga. From January to May the spectacular gray whales can be seen migrating close to our shores traveling to and from the calving lagoons.
2 hour Island Nature tour $25 p/person (4 person minimum)
*GROUP/FAMILY RATES AVAILABLE*

WHALE WATCHING PACKAGES TO OJO DE LIEBRE (SCAMMONS LAGOON)

for more info visit www.whalemagictours.com




This is the largest calving lagoon in the world that has about 2,000 gray whales present at the peak of the season which runs from Jan-March. You can watch whales from the beach or take a panga to see them close up with their babies. The lagoon is a magical place to spend some time, camp or dine in the lovely restaurant in the educational center.

Let me know if you would like to join our guided trips for the 2018 whale season jan-march.

Packages include accomodation in Guerrero Negro, naturalist guided whale excursion and Gray Whale guide book.