This page provides information about the latest news in Asuncion, road conditions, weather, fishing reports, events and interesting anecdotes on the area.
NEW U.S.A. PHONE # FOR YOUR CONVENIENCE
619-906-8438 (best to call in the early morning)
NEW SEAFOOD PALAPA AT THE BEACH OPENS!!
There is a beautiful new palapa that serves fresh seafood like ceviche,seafood cocktails, shrimp, scallops, oysters, clams, octopus etc. The ocean view is fantastic watching the kids boogie board and swim and they serve beer too!
It is operated by Blady, Juanita & Lenin's son..who have Juanitas cafe. It is open Fri-Sun all day long right on the town beach by where the second hand stands are.
great beachfront dining!!
NEW PEMEX OPENS...FINALLY!!!!
After years of waiting, the village is happy to announce the opening of the new Pemex gas station...and it even has deisel! Finally reasonably priced fuel and regular business hours from 6:00 am - 10:00 pm. The store will be open in a couple of months too.
EXPATS MAKE A DIFFERENCE IN ASUNCION
Living in a rural village in central Baja is like stepping back in time when life was simpler and everyone knew everyone and cared for each other. This is one of the many things I love about our village. We all help each other out and the expats that live here try hard to assist the villagers wherever they are able.
One of the challenges in small towns is keeping public works programs operating on a very low budget as very often they are not paid or grossly underpaid. Such is it with our local policia. Our police chief and most of the officers are from here so they know everybody. My husband fixes their radios and one day in March the Comandante was visiting us while a lawyer friend of mine and her partner who is a judge from my home town were also visiting.
The friendly talk led to a discussion of how the force operates here and how under budgeted they are. He sadly showed her how threadbare his uniform was and asked if there was some way to get a uniform sent down from Canada as they are prohibitively expensive or unavailable here.
So my friend Geri Sanson contacted the police chief in Chatham and asked about the possibility of getting some uniforms donated. The Chatham Police department took the task to heart and came up with not one but 20 uniforms that consisted of both blue & white shirts, pants, beautiful jackets and vests!
The next challenge was how to get them across 2 borders and into the hands of our officers. This
time of year is when many Canadian snow birds head south so a wonderful couple Tim & Barb from Vernon B.C agreed to pack the 2 big boxes down with them and deliver them personally to Asuncion!
Needless to say, the Chief and other officers were thrilled with the uniforms and plan to use them for special events. We hope this becomes an annual donation that will keep our police looking dapper!

NEW RESTAURANT IN BAHIA ASUNCION
Congratulations to the owners of the new restaurant Los Arcos. It is a nice big, clean place with good service and traditional mexican dishes & local seafood. It's great to have more choices of where to eat in town.
TROPICAL STORMS BRING RAIN TO ASUNCION!
September is storm month in baja but Tropical Storm IVO hit us in late August with gale force
winds & heavy rains that washed out roads and flooded houses. When storms hit the peninsula, Bahia Asuncion usually receives very little rain so even though people's roofs leaked we were thankful for the quantity of rain which will soon produce fields of wild flowers and the popular pitahaya cactus fruit.
We had 3 storms in succession, Ivo, Juliette and Lorena(which luckily fizzled out before it reached us) but it has rained 3 times in the last 2 weeks which is a lot for Asuncion.
Another positive aspect of storms is that they push lovely warm water up our way bringing
more fish to the area. The fishing is always better after a storm as the fish are hungry so anglers have been getting easy limits of abundant yellowtail, bonita, barracuda & calicos.Not to mention how beautiful the rainbows are!!!

Here is a little slide show of the effects of IVO in Bahia Asuncion.
http://s1327.photobucket.com/user/labufadorainn/slideshow/Tropical%20Storm%20IVO?sort=6
BAHIA ASUNCION TRADITIONAL FIESTAS AUG.15-18
Summer is fiesta time in baja sur with the kids out of school and home from
college. Each village has a few days set aside to celebrate…usually on the Saint's birthday the town was named after. Here in Bahia Asuncion, our Traditional Fiestas are held around the 15th of August, the feast day of the Assumption of Mary, that celebrates the day that God assumed the Virgin Mary, having completed the course of her earthly life into Heaven. This year's fiesta will be held starting Aug.15-18th.
The first day of the fiestas, the statue of Mary is removed from her pedestal in the Catholic Church and paraded through the village as well as taken in a panga around Asuncion Island. The parade leads about 100 horses in a Cabalgata which is like a car rally but with horses where the cowboys and girls don their fancy western attire. Horses come from far and wide to participate and there are usually over a hundred riders. The procession ends at the church where the participants are blessed and a feast follows. In the evening, the queen of the fiestas is crowned at the opening ceremony, fokloric dancers and other performers take the stage and a dance follows with a live band.
The Fiesta last for 4 days chocked full of events for the whole family. There
are beach sporting events, a fishing tournament on Sunday Aug.18 for yellowtail open to the public. The entrance fee i 500 pesos for panga fishing for yellowtail and shore fishing fees are 50 peos for kids, 80 pesos for teens and 100 pesos for adults. You must be present at the meeting at 500 on Saturday Aug.17 and have a fishing license. Cash prizes are awarded in several catagories, adults, kids in panga and shore fishing. First prize for yellowtail is 50% of the inscriptions, 2nd prize is 30% and 3rd prize is 20%. The fish is cooked up afterwards at a big community BBQ with live music too.
There are horse races on Aug. 17 & 18th, rodeos, car & motorcycle races on Aug.18th as well as a midway with rides for the kids and food booths every night. There is music everywhere with roving bands at the events as well as big dances every night with 2 live bands.
It is a very lively festival and the village is full of visiting families from the
surrounding ranches and villages. So if you are in central baja around mid August, come and enjoy the festivities.
Here is a little video of past fiestas.
http://www.youtube.com/watch?v=2fXdqC899z0
2013 BRINGS LOTS OF NEW CHANGES TO ASUNCION
The new Pemex station is getting close to opening in Asuncion. The signs went up and they have certainly changed the landscape of the beach area. It will be nice to have cheaper, more reliable gas service in Asuncion and and certainly reflects the growth of our village. We also have a new pharmacy with a doctor there as well!
The fishing cooperative California de San Ignacio has a new
aquaculture & laboratory building where they will be growing seed from local abalone to have in case of an abalone die off so they can reseed the area with the local seed as well as sell it.They will also be experimenting with other aquaculture products like oysters & scallops. This years abalone season is going well and is an important economic generator for the area.
We had a good year last year with great fishing and an increase in visitors to the town but this next year there are many new projects to improve visitor services. The most important is a new Pemex gas station. We will finally have cheaper gas and more reliable service. The road is being fixed as well which should bring in more tourists. And we will finally have bus service to Vizcaino which will make travel links easier. Here is Dario with his new EcobajaTours bus that will run on Tuesday, Thursday, Saturday & Sunday twice a day to coordinate with the buses coming and going from the north and south.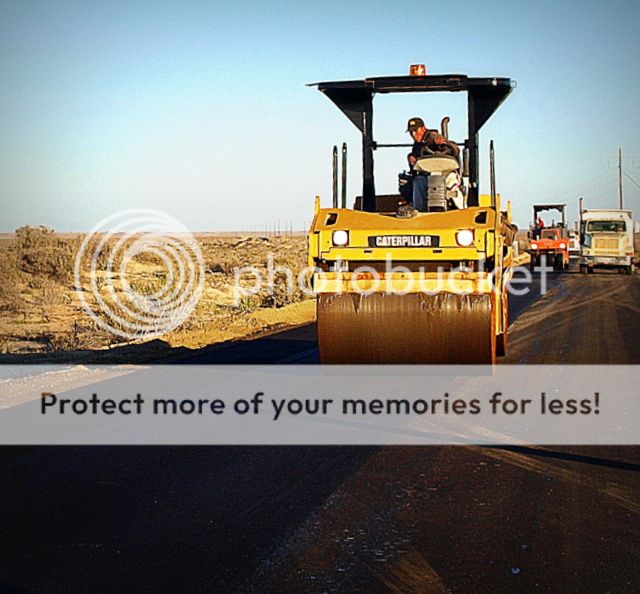 HURRICANE PAUL WEAKENS BEFORE HITTING ASUNCION
Luckily Hurricane Paul split in two and lost steam before reaching us here in Bahia Asuncion. There were some tense hours especially after the internet went down in the whole state and we couldnt see the satellite images where Paul was headed. Luckily we still had an AM radio to listen to reports and the power remained on throughout the whole ordeal.
On Tuesday, as Paul was wreaking havoc in Mag Bay, Capt. Juan Arce Marron managed to get some
anglers out before the storm hit here. Ironically,one of the fisherman's name was Paul too! They had an exciting day on the water as the clouds built and it began to rain a bit. They got limits of calico bass and a few medium size yellowtail before they had to come in as the seas started to build which makes it hard to pull the boat out of the water. After downing the traditional sashimi plate, the storm clouds began to close in which made for a great sunset.
Wednesday, the tropical storm hit Asuncion with hard rain and about 50 knot winds, not enough to cause any real damage thank goodness. Our prayers are with those who lost their homes further south. Here is a little clip of the wind starting to come up.
[flash=640x360]http://www.youtube.com/v/m87Ks_7veC[/flash]
On Monday, a couple of spearos had an interesting dive when a dozen Orca appeared and surrounded our panga just as they were about to jump in the water which is very rare in these parts.! They speared several nice yellowtail and saw large schools of fish. The shore fishing has also been red hot with halibut still around.
TRADITIONAL FIESTAS OF BAHIA ASUNCION
The Bahia Asuncion Traditional Fiestas are held every year around Aug.15 to mark the ascension of the Virgin Asuncion. There are many religious celebrations and sporting events. People from all over the peninsula come to participate in the many events held over five days.
The first event was the surf tournament held at Los Choros surf point. It was a great family day with
a 6' swell. It is hosted by our local surf club Los Jurjos with assistance from Wildcoast and teams came from Bahia Tortugas, Pta.Abreojos and Ensenada. There are catagories for adults, juveniles & women on board and body boards. This year's event was won by Kevin from Ensenada and he along with other winners from his club all donated their prizes to the local surf club. Here is a slide show of the event.
http://s385.photobucket.com/albums/oo295/blowhole1/Asuncion%20Traditional%20Fiestas/Torneo%20de%20Surf%202012/?albumview=slideshow
On Aug.15th, the statue of the Virgin Asuncion is paraded around the village and also she takes a panga
ride out to Asuncion Island. There is a Cabalgata or horse rally where up to a hundred horses come from surrounding ranches to ride from a ranch into town where they end up at the Catholic Church for a blessing from the priest and a luncheon. Many horses show off their dancing skills and let kids pose on the horses during the gathering at the church. Here is a slide show of this picturesque event.
http://s385.photobucket.com/albums/oo295/blowhole1/Asuncion%20Traditional%20Fiestas/Cabalgata/?albumview=slidesh
Every night there is a midway fair with rides, games and food stands and a two live band play for the nightly dances. This year's highlight was a big 10 piece band called Pautazul from Sonora. The dance floor was packed and we danced till 4:00 in the morning!
The horse race are the most popular event and best attended. This year's big race was even more
exciting than usual becausein the big race between El Mochomo,the favorite to win from Bahia Tortugas, and El Docente from Sinaloa, the race was so close that you couldnt tell who won even in the picture of the photo finish so after some tense moments and lots of discussion, it was declared a draw. Here is a video of the race.
http://www.youtube.com/watch?v=F7Tf6jQ-7eI
and a slide show of the photos for you.
http://s385.photobucket.com/albums/oo295/blowhole1/Asuncion%20Traditional%20Fiestas/Horse%20Races%20Fiestas%20Tradicionales/?albumview=slideshow
The fishing tournament had about 30 pangas that fished for yellowtail and calico bass and there was a shore fishing category for halibut as well. It was a nice day on the water and an enjoyable day at the beach as the pangas returned to weigh their fish. There was a band from Mexicali entertaining the crowd. The first place yellowtail was 12.8 kilos caught by a team from Guerrero Negro who won the 250,000 pesos prize donated by the governor of the state.
There were also car and motorcycle races the last day of the fiesta that were well attended and drew participants from all over the county.
GOVERNOR OF BAJA SUR VISITS ASUNCION
Marcos Covarrubias, the Governor of Baja Sur came to Asuncion to inaugurate our new baseball stadium...the only one in the area with astro turf and lights. The stadium was crowded and the mood jovial...the Governor was an impressive speaker...very relaxed, humorous and warm. He talked about the importance of sports and the youth of today needing healthy activities and donated some boxes of balls to the local teams and even tried to hit a pitch.
But the crowd applauded the most enthusiastically when he announced that as of today, work would begin to fix the nasty pot holed part of the road that everyone is complaining about.
This means a great deal to our village...and sure enough, the surveyors were out yesterday and machinery will start work on Monday. He also gave us a new garbage truck and talked about the aqueduct and paving project along the coast road.
He spent a long time with people in the stadium hearing their petitions for help and listening to their comments. He was very patient and gracious leaving the village very satisfied that the government has not forgotten Bahia Asuncion. I had a chance to thank him for fixing the road and let him know how much it meant to the villagers and the tourism sector and his aids took this photo of us...It was a great day!
Flying Doctors visit Asuncion
It was an honor to have the Truckee Chapter of the flying doctors here in
Asuncion this weekend. The 4 person team held clinics for womens health and eye glasses over 2 days. It is always great to volunteer for them as translator as I get to learn soooo much every time! They were a wonderful, enthusiastic team and the clinics were very successful.
Here is nurse Christy and Dr. Leigh Wayne with our first patient at the womens health clinic...Anayi is everyone's favorite policewoman around here!
Randall the pilot was really busy providing reading glasses for the good folk of Asuncion as well as sunglasses...the kids LOVED him as he made them look like movie stars!
and the ladies that work at the DIF office next door LOVED their new glasses for sewing.
The kids enjoyed listening to their own hearts and to each others as well.
The team really loved Asuncion and the people as well as the great fresh seafood provided by the 3 Hermanos restaurant and Loncheria Mari...who made them an amazing conch cocktail and delicate fresh grilled halibut!
Here they are relaxing after a long days work at the clinic at our B&B patio.
It was a wonderful 3 days with these dedicated folks and we look forward to their return soon...mil gracias!
YA GOTTA LOVE SUMMER IN JANUARY!!!
2012 has got off to a wonderful start here in central Baja with summerlike air temperatures in the 80's some days and very little wind…just the way the snow birds like it. It is perfect whale watching, kayaking and fishing weather which is what most folks are doing around these parts this time of year.
The female gray whales that are birthing and raising their calves are filling up the lagoons very early this year. The first census showed record numbers of whales present in the lagoons for so early in the year. There were 896 in Ojo de Liebre lagoon by Guerrero Negro, 114 in San Ignacio lagoon and 23 in Magdelena Bay so we anticipate an excellent whale season. By the end of January there were 1,500 whales in Ojo de Liebre and we have yet to reach the peak of the season!
Males and females who are not birthing hang around all up and down the baja coastline and can easily be seen from shore here in Asuncion. The fishermen see dozens while they are catching yellowtail…which are also still hanging around the area.
HAPPY NEW YEAR TO ALL OUR AMIGOS!!!
We had quite an exciting close to 2011 with the beach wedding of our daughter Sirena.
It was a spectacular day sporting sunshine & summer temps so we jumped in the ocean after the ceremony in our wedding garb! Everyone looked so beautiful and it was wonderful to have so many family and friends here for the ceremony and party! Here is a link to some photos of the day.
http://s385.photobucket.com/albums/oo295/blowhole1/Sirena%20and%20Adrians%20Wedding/?albumview=slideshow
If January is any indication of how 2012 will go, we are excited about it. The fishing has been epic with lots of yellowtail over 40 lbs coming in, fantastic weather and lots of new visitors to the area as well as our old friends. We have really enjoyed all the potluck dinners and parties with the locals. The weather is gorgeous, the ocean is warm enough to swim in and life is great here in Bahia Asuncion. We look forward to a good year with lots of new projects afoot and welcome some new residents here who are building homes.
---------------------------------------------------------------------
December...month of FIESTAS and winter sunshine!!! The weather is cooling down now…gosh sometimes it even gets down to the high 50's…that's when the locals bundle up in hats, gloves and coats and all complain about the FRIO! But, the visiting snowbirds still sport shorts and flip flops on the days in the high 60's and mid 70's and enjoying the sunshine. Growing up in a snow belt sure makes me appreciate the all round mild climate here in Central Baja. I love it that I can go to the beach pretty much any day and the ocean is warm enough to swim in.
Baja has an incredible amount of sunshine…even in December. The winter storms coming down from the north mostly peter out before they get this far or bring a bit of cloud, wind and hopefully some rain to nourish the plants…so the pithaya fruits are plentiful and the area will explode with flowers in the coming weeks.
It never ceases to amaze me how flowers bloom in December…my garden is full of plants in
bloom which is such a delight to look at when we are relaxing in the sunshine on the patio.
The December holiday season is a real family affair with big Christmas dinner gatherings as well as lots of weddings and posadas. Family and friends come from far and wide to be together. The food is plentiful and mood is festive…and a far cry from all the hustle & bustle north of the border.
Our family is busy planning the wedding of our daughter Sirena after Christmas so we have an extra helping of family and friends arriving for the holidays.
The good news is that the road crews are still working on the bad stretch of road coming in from Vizcaino and the sand dunes have been removed.
Fishing is superb right now with the yellowtail bite continuing to produce large fish up to 40 lbs. We have started to see the odd migrating gray whale pass by as well as humpback whales feeding up at San Pablo.
FIESTA DE REVOLUCION MEXICANA
Nov.20th is my favorite holiday in Mexico. The day begins with a parade, then dancing at the cancha then in
thevening there is a noche mexicana with fokloric dancing and beautiful food booths set up with a historical theme where the adelitas cook over open fires preparing traditional foods and champorada to drink.
November is our very favorite month...perfect weather, water is warm enough for swimming, not much wind and many of our expat amigos are settled in which makes for wonderful pot luck gatherings!
Asuncion celebrates the FIESTAS TRADICIONALES
It was a fun filled week last week as the town held many fun
events that were very well attended. The weather was fantastic
with air temps in the low 80's and water temps up in the 70's.
The Fiestas started off with the surf competition, followed by
the fishing tournament which was won by Nelson with a 35 pound
yellowtail....lots of big fish were caught. Then the horse races,
rodeo and offroad race. The dances were great too and the kids
enjoyed the midway. The cabalgata was beautiful as always.
Here is a little slideshow of some of the events.
http://www.youtube.com/watch?v=2fXdqC899z0
SUMMER FINALLY HERE
The kids are out of school and the weather is perfect with air temps are in the low 80's. Everyone is tending their gardens, painting and fixing up their houses. Here is a little slide show of this year's graduating class.
http://s385.photobucket.com/albums/oo295/blowhole1/Graduacion%20de%20Cecyte%202011/?albumview=slideshow
The halibut have moved in and the beaches and pier are loaded with fishers.
The Flying Doctors from the Bay area were here last week doing free dental and eyeglass clinics that were a great success. The ladies from DIF, a community organization provided the food for them and also volunteered at the clinics. They are raising money for a senior's center and the doctors made a donation to the cause and agreed to partner in the project where they would also have a room for their clinics.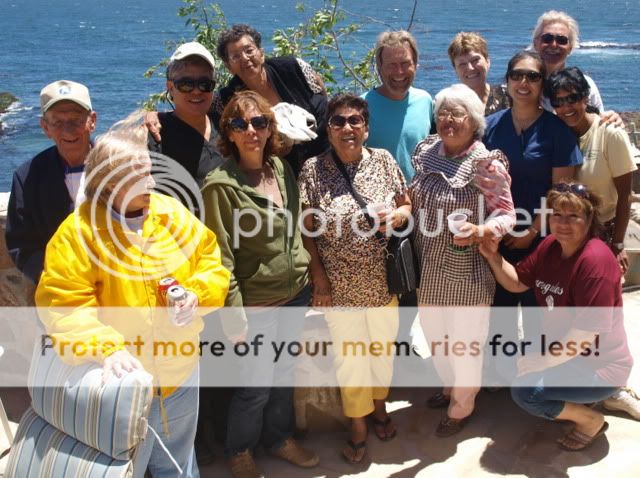 SCUBA DIVING...A NEW ACTIVITY FOR ASUNCION
We are pleased to announce that we are the first and only business to get the permits for taking out scuba divers in this area. Asuncion offers world class diving and we look forward to welcoming divers here. Todd Verbeke and his wife and friends spent 2 weeks exploring the undersea paradise doing a wreck dive, a night dive, a technical deep dive of 150', shore dives & snorkeled with the sealions for a great dive holiday.
Todd and his pal TJ are both PADI instructors and I am proud that I finished up my course with them and am now a certified diver as well!! Here I am with Todd going over some hand signals.
I really look forward to exploring the undersea paradise here!
Here is a little slideshow of the fun we had playing with the sealions at Asuncion Island
https://picasaweb.google.com/sharibondy/GypsySealionApr2011#slideshow/5601441770976996354
LOOKING FORWARD TO SUMMER
Spring on the mid west coast is our quiet time of year as we have cool, windy weather. Juan is fishing abalone this year and the season is going very well thanks to last years cold water. Halibut are just starting to show up so shore fishng will be hot real soon. Everything points to a good fishing season this year...we hope.The paved road has made it so easy to get to Vizcaino but watch out for the sand dunes and pot holes on the part out of Vizcaino.
The Gray Whale season was fantastic this year in Ojo de Liebre...see the Whale Diaries page for a full report. The last of the mom's and babies are still passing by our house every day.
2011 starts off GREAT!!!!!
First of all, all of us wish you all the best for this next year! It will be a year of growth here in Asuncion marked by the completion of the new paved highway all the way into town. It is now only an hour to Vizcaino and a joy to drive. We are already seeing more campers coming in. We also want to welcome some new folks to the village this year who are bound to be a real asset to the community.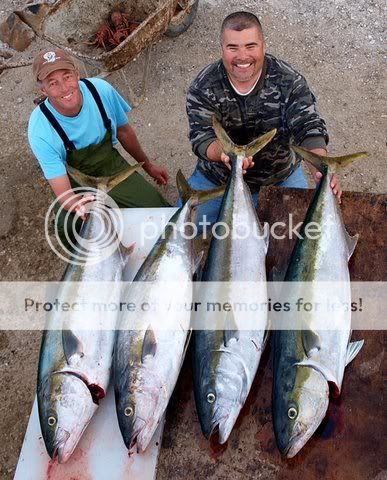 The yellowtail fishing has been excellent this January with many 30-40 lb fish being caught trolling very close to Asuncion. Here are a few happy clients with thier prizes. Shore fishing has also been terrific with lots of corvina & croakers.
Asuncion was full of activity over the Christmas holidays with lots of families visiting. It was our pleasure to host Asuncion's first ever bi-cultural Beach Wedding. Our amigos Nancy & David's daughter Micah married her sweetheart Jeremiah on our beach at the B&B and the reception was held at their Galeria Bahia. Here are some photos of the event.
http://picasaweb.google.com/PridhamStudio/ReSizedWedding#
We were also honoured to host Mike Younghusband over the holidays who is walking the
Baja Peninsula with his burro Don Kay and dog Solovino. He is an amazing character with lots of fascinating stories to tell about his adventure.
The local kids loved the burro...here are some photos of his visit.
http://s385.photobucket.com/albums/oo295/blowhole1/Mike%20Donkay%20Solovino/?albumview=slideshow
OLD POSTS FROM 2010
NEW PAVEMENT REACHES ASUNCION!!!
After years of waiting and road work, the pavement has
finally reached the village. This is a welcomed project for all who live and visit here. We are now only an hour off the main highway!!!
Fishing has been excellent for yellowtail and tourism has picked up as well finally. All our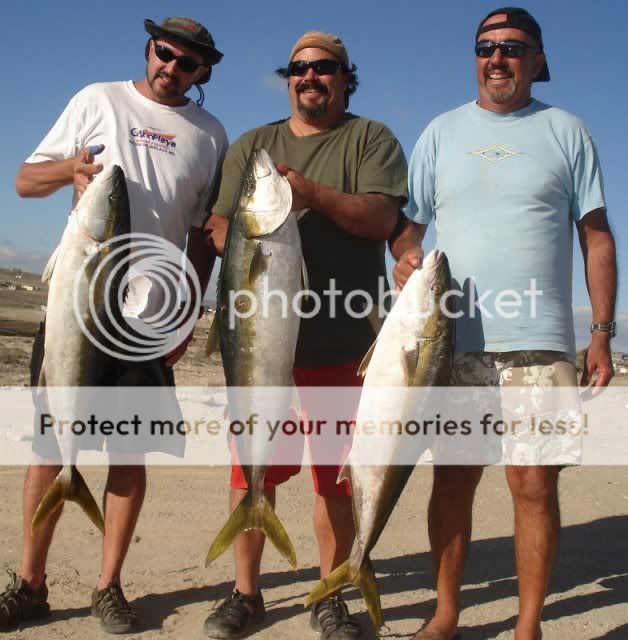 visitors are enjoying the shore fishing and nice weather .
Lobster season is open till february so the visitors that are here have been enjoying lobster dinners at the various restaurants.
The good news is that the road from Vizcaino has been repaired and our new highway is being completed in the next 2 weeks..paved all the way into the village!!! A group of Vagabundos del Mar campers took advantage of the new access to Asuncion and camped at
Campo Sirena. They fished and explored the area on their quads and were enchanted with the area...two of them want to buy lots!! They loved dining on local seafood fare like crab sushi rolls at the Tide Pool Bistro at the camp and their dogs had a great baja holiday too...they cant wait to come back!
Also, we have some really big news...we are happy to announce the arrival of Baby Izaak...or little big man as we call him. Sirena gave birth to him Sept.29th and he weighed in at 84 pounds and was 55 cm long...huge! Here he is practising his surfing stance!
SUMMER FINALLY KICKS IN
Sea lion cruises are becoming very popular as it is something the whole family enjoys. Asuncion Island is only a 5 minute boat ride from town where there are thousands of playful sea lions, seals and sea birds...great for photography! The juveniles love it when you get in the water with them.
Here is a little slide show of Lionel and his family's adventure at the island.
http://s385.photobucket.com/albums/oo295/blowhole1/?albumview=slideshow
The water temps have finally warmed up bringing the fish inshore and making it possible to swim, boogie board & surf again. The kids are out of school and campers have started to arrive to enjoy the cool pacific breezes while the rest of baja swelters in the heat. Summer expat residents are arriving...many from the gulf side of Baja to escape the heat. The kids are out in the surf everyday getting in shape for this years annual Surf Competition which will be held on Saturday Aug. 7th. It is a super fun event with lots of catagories followed by a dance that evening with a live band. Everyone is welcome to participate!
This year's Traditional Fiestas will be held Aug. 13-16th...events include beach sports, fishing tournament, car, motorcyle and horse races, rodeo, midway, food booths, and dances every night featuring live bands. It is a fun filled few days so drop by if you are in the neighbourhood!
*******************************************************************************
LOOKING FORWARD TO SUMMER
May is our least favorite month here on the central pacific coast as it blows hard nearly every day. Luckily June brings better weather! There are schools of yellowtail just offshore and the halibut are moving into the beaches for shore fishing. Abalone fishermen have been battling the winds and high swells but should finish up this month. The village is a flurry of activity with many building projects on the go. The highway crews are working hard to finish paving the road into Asuncion by the end of July.
Asuncion hosted a terrific mountain bike race on May 31st with teams from Guerrero Negro, Vizcaino, San Ignacio and La Bocana competing. We were proud to put up the La Bocana team at the Beach House and together with local expats here, we organized a pot luck BBQ for all participants. It was really fun to get together with the families from out of town and meet new friends. The kids were awesome and we all look forward to helping them get better gear. Here is a link to the slide show of the weekend's festivities.
http://www.facebook.com/l.php?u=http%3A%2F%2Fs385.photobucket.com%2Falbums%2Foo295%2Fblowhole1%2Fasuncion&h=3049a
APRIL WIND AND SWELLS ABOUND
It has been a mixed bag for weather this month but mostly windy with big swells. Juan has been abalone fishing all month but has been able to get out sportfishing with a few clients. Due to warmer sea conditions, there are still some yellowtail here which is very rare for this time of year. Here are a few of this month's catches.
the bass fishing was excellent too
NEW RESTAURANT IS SWEET!!!
Loncheria Mari just opened in Asuncion..its wonderful to see new businesses opening and having more choices of places to go. It is located across the street from the coop on the main street...it is very clean and the owner is extremely attentive and loves feedback. The hamburgers are awesome as is the pate made of local lapas that taste like abalone! They also serve beer and seafood ina very friendly atmosphere with excellent service.
MARCH COMES IN LIKE A LION..out like a lamb
It has been a wild weather ride so far this month with large swells, much to the delight of the surfers. It's been variable with some chilly, windy days and some gorgeous calm, hot days. Lobster fishing has closed and abalone season starts mid march...yumm yumm.
The last couple weeks of March has been like summer with temps in the 80's...great beach weather and even the ocean temps warmed a bit. The wildflowers are everywhere and smell divine!!
We were surprised when a couple anglers caught some nice yellowtail and a big bonita off San Roque Island...it's really late for yellowtail...sure enjoyed the sashimi though!
Most of the snow birds have flown the coop now and will be sadly missed. We are so proud how many of the folks who have settled here have fit in nicely to the community. We hosted a despedida (going away party) for Nancy & David Pridham of Galeria Bahia. Nancy has been closing the cultural gap with her accordian music. She is learning all the popular mexican songs and joins local musicians when they play. The accordian phenomenon is spreading and another expat Zoe has also bought one....we look forward to many hours of entertainment.
I am happy to announce that the road construction has begun in earnest to complete the paving last 10 km into Asuncion...slated to be done by August!!!
March is birthday month for Juan & Shari and we enjoyed the celebrations at Galeria Bahia...great food, company and dancing of course! Our Spanish Immersion school group enjoyed learning the cumbia and the party was part of their course.
They camped at San Roque where they hooked up with local families for activities like boogie boarding, beach clean ups, BBQ and games. They took spanish classes to help them communicate with their new amigos. The highlight of their visit was snorkeling with the sealions at Asuncion Island...an experience they will never forget!
We had a terrific BBQ and feast in San Roque with the group and our local family and friends who enjoyed interacting with the students, playing music & dancing.
We have had some fun clients this month...these dirt bikers entertained the kids with their wheelies!
We are so sad to see our canadian amigos who live here half time now heading back north. We will really miss them. But some new folks are starting to build homes this month who will add new spice to the village and some cottage industry businesses.
Our little village is growing at a slow but sure pace. We are very happy with the newcomers and how they have assimilated into the community and contributed to positive growth.
There are still many lots available and we are proud to announce a new company that will not only find you your dream lot, but can provide all your immigration paperwork and permits as well as help you build your home. Forgotten Coast Enterprises has put together an excellent team of professionals who provide a complete package to help you start living your dream!
You can contact us at This e-mail address is being protected from spam bots, you need JavaScript enabled to view it
FEBRUARY FISHING...WHALES...BUILDING!
We have been enjoying decent weather for fishing and seeing lots of whales passing by now. Juan has been hard at work finishing up our rock room addition to the B&B. It is so cozy and quiet!
He did take a day off to go fishing with amigos here and they limited out on white fish, calico, bonita and yellowtail. Shore fishing has also been great for halibut and yellowfin croaker.
There are still lots of yellowtail around till the end of february.
Here are some clients showing off their fish...and me too!!
January and February is a mixed bag of fantastic summer like weather and cool, windy days aand this year...even some rain squalls which have made for fantastic wave watching out here at the Blowhole. Surfers have been delighted with the consistent big swells this month. No problems with the roads anywhere in this area.
Here are some photos of this crazy weather.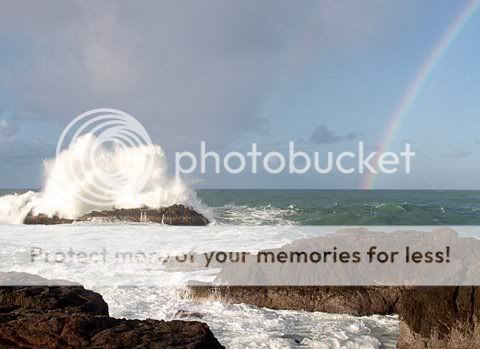 We had the pleasure of entertaining the San Francisco chapter of the Flying Doctors for a few days as they held their free clinic here as well as another fly in group who enjoyed the fishing and nature tour to the island.
My family gave me a new camera which I have been having such fun trying out. here is a link to some ocean critter photos I took last week when we went out on a family fishing/nature cruise trip...so much going on, whales, dolphins, fishing!!!
http://s385.photobucket.com/albums/oo295/blowhole1/family%20fishing/?albumview=slideshow
We have been seeing gray whales passing every day now as well as a lot of humpback whales.
Lobster season is in full swing and we have been taking full advantage and eating our fill of them. We took some of our visitors to Tita & Bimbo's place in San Hipolito for lunch!
We have a new office which at the moment is serving as our sign showing visitors where to turn for Campo Sirena...Nancy Pridham, our resident artist of Galeria Bahia did a great job!
Once again I thank our visitors for a great year and we look forward to meeting new friends in 2010.
Some of last seasons fish!
The fish of the week was caught by 84 year old Charlie Silvert who only wanted a dorado (which have been scarce lately). Way to go Chuck!!!
Town is bustling with visitors much to the delight of the stores, restaurants, beer vendors and locals. Campo Sirena has been very busy and most sportsfishing boats are booked up.
Kayak fishermen have enjoyed nice calm seas and great fishing. Dennis got dragged around for a half hour with this gorgeous yellowtail he caught in front of Campo Sirena...the biggest fish here so far on a kayak.
Shore fishing has been spectacular as well with lots of halibut, corbina, croakers and even some yellowtail. Here is the Corbina Queen Shelley with one of her many many fish she has caught over the last 2 weeks.
It has been a big week for yellowfin tuna with everyone limiting out quickly on 20-45 poound fish sometimes only 500 meters from shore. Here is Juan's deckhand with a 33 pounder.
The latest paving project is now DONE and open for driving on!!! just in time for the fiestas. Watch out for potholes on the road from Vizcaino to the Asuncion turnoff.
There have been some new changes coming to our area regarding the Biosphere Reserve. The Vizcaino Biosphere Reserve is the biggest in all Latin America and is funded by user fees which they will now be applying to visitors to central baja. As a service to our clients, we have purchased the bracelets you get when you pay your park fees so you can just get them from us.
Here are our first clients to use this new system…Carlos Vazques and his son Ben enjoyed showing off their bracelets as they set out to see the sea lion and bird colonies at Asuncion Island.
[Here is a link describing the Reserve.
http://www.parkswatch.org/parkprofile.php?l=eng&country=mex&park=vibr&page=man
We are still getting the bugs out of the system and at the moment anyone hiring tourist services in Asuncion requires the bracelet and must use only service providers who have the special Biosphere Permits. You can get the permit bracelets (46 pesos a day) from our Reserve Representative Jaime Morales here in town or from the Biosphere reserve office in Guerrero Negro as well. So if you are camped on the beach or surfing, kayaking, swimming etc. you may be approached by Jaime in his Reserve truck and uniform to pay the permit. For those of you who spend more than a week here, there is a yearly passport you can purchase for 260 pesos that is good for any Park in all Mexico for a year…you can get this at the office in Guerrero Negro and possibly here in the future. I will provide more info as we get it.
That's it for now amigos.....