2022 SPRING
The ocean temps are still below 60 but some yellowtail are starting to show finally now that June is here and the weather has warmed up. Halibut are also moving in and the calico and grouper fishing is fine this time of year.
DECEMBER as usual was a fantastic month for catching BIG yellowtail! We had gorgeous summer-like weather perfect for fishing!
NOVEMBER The weather has been excellent and fishing is too! The yellowtail bite is wide open in most areas near Asuncion with the fish getting bigger…in the 20-35 lb range now. Both panga fishermen & spearos have been limiting out. Some tuna have been caught in the area too. Nice to see lots of anglers here now after such a long time with nobody around.
November 20-31 Woohooo the Wahoo are on the scene as well as yellowfin tuna! The yellowtail are getting bigger and our guest speared a 50 pounder and an even bigger broomtail grouper! Fish ON!
OCTOBER!!! Finally my favorite month has arrived when lobster season starts and sport fishing ramps up! The yellowtail bite is ON and catches also include black sea bass, dorado, bonita and calicos. Water temps are rising so hopefully more tuna and wahoo will move in.
Shore fishing has been epic this month…Mark reported a fish every cast just north of Bahia Asuncion in his secret surf & fish spot!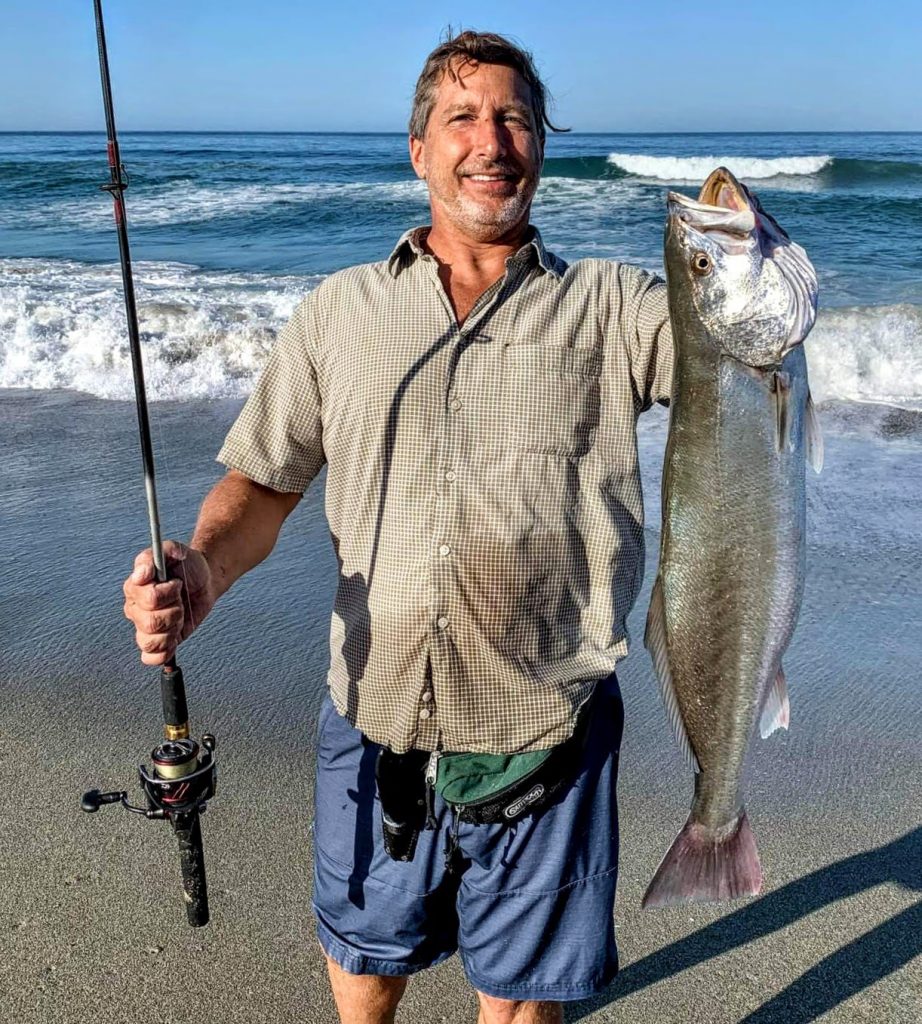 SEPTEMBER!!! The water temps warmed up to the low 80's and the fish moved in. There are lots of dorado, bonita, whitefish, calicos and the yellowtail bite is often wide open. So come on down and enjoy fishing in nice weather with air temps in the low 80's making it pleasant to fish.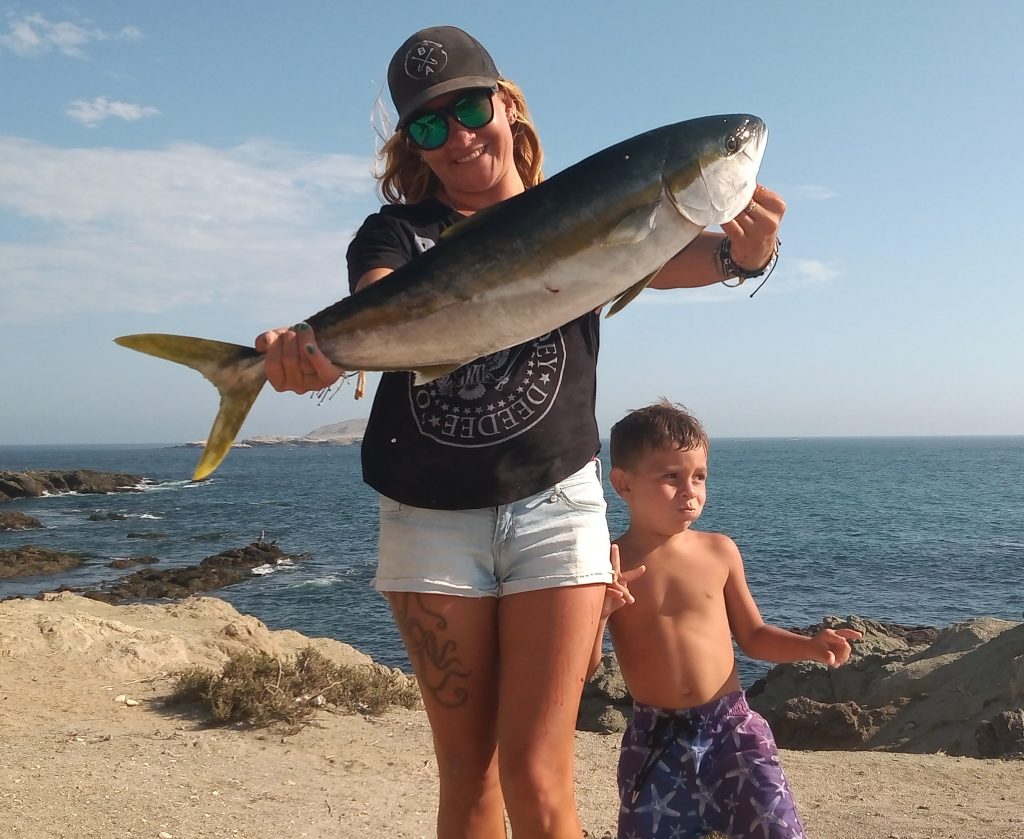 AUGUST!!! Whoooo Hoooo the ocean temps finally warmed up to the mid 70's which is balmy for us here. There is bait everywhere and the fish have moved in. Local anglers report easy limits of dorado and nice big calico, white fish, bonita and yellowtail. Now all we need is some sport fishers to visit so we can get photos!
Also halibut have been plentiful for shore fishers and some croakers too.
July The water temps are slowly warming up and fish are moving into our area. Anglers saw big yellowtail and bonita at San Pablo this week! Halibut are starting to show for the shore fishers too. This is a fishing vessel I had never seen before but looked like fun!
June 2…Water temps are still low which is great for the commercial abalone fishery that started June 1st! Bottom fish are plentiful for kayak fishers and shore fishing is starting to pick up with some halibut moving in!
We had yellowtail biting right into March this season but now the ocean has cooled down to under 60 degrees so fishing is limited to calico bass, sheepshead, bottom fish etc. but we got a nice surprise to catch this 30 pound YT in April!!! What a treat!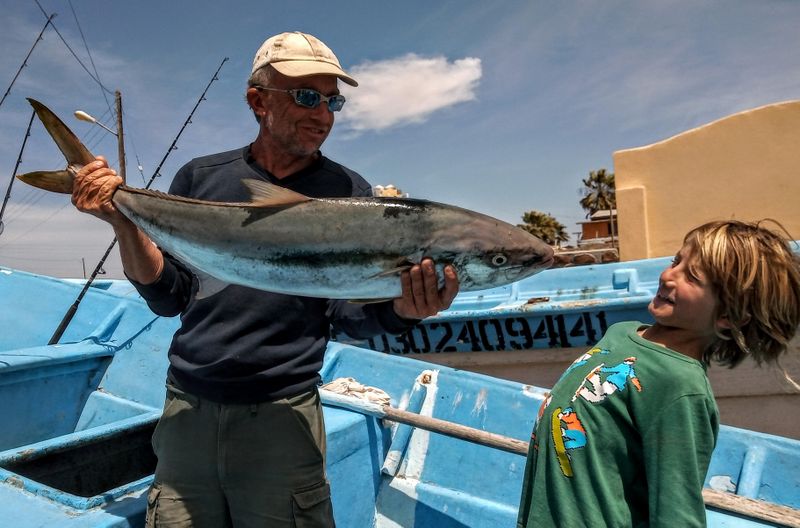 November ends off with some BIG Yellowtail!
We have had lots of first time guests land some big fish this week like Jane!Our guest Mike speared his personal best his first 15 minutes diving in Bahia Asuncion and is a new convert to our area! Shore fishing has also been terrific just like the weather!
Mid November Yellowtail Bonanza
The fish are putting on the pounds now and many 30-40 pound fish being caught now…perfect fishing weather with not much wind nor swell. Our guest Colette knows her way around a big fish!!!
As usual the yellowtail fishing just gets better and better and some tuna are starting to show now too. It was a pleasure to host Pat McDonald of Western Outdoor News…it was his first visit to Asuncion but not the last! He & Chris caught some nice YT in the 20-30 lb range.
NOVEMBER STARTS OFF STRONG!
The yellowtail are everywhere and fish are starting to get some nice size to them….many 30-40 lb fish being caught now both trolling and jigging. Calico fishing is wide open as well and anglers are pleased with their mixed bag catches. It's neat that our guests fish in so many different ways…panga, shore fish, kayak and spearfish….everyone is getting limits! Still no Covid here and locals are so very thankful for your visit so Come on Down! Oh and dont forget it's lobster season!
OCTOBER YELLOW TAIL BONANZA
Anglers are stoked at the mixed bags they are getting this week with wide open yellowtail bite of all sizes, calico bass, bonita & grouper. We are so happy to have our loyal clients returning again now! Much appreciated.
Last 2 weeks of September….excellent yellowtail bite close to town for easy limits on most days of fish between 15-35lbs and lots of calico…now all we need are some fishers!! They also saw marlin, wahoo and some small dorado. My daughter was so stoked to get out there and bend a rod! Our season is just cranking up now…October should be fantastic!
Sept.1-7 WIDE OPEN YELLOWTAIL BITE
This was a perfect week for fishing with not much swell and calm in the mornings for easy limits of yellowtail, calico bass & bonita. There are some dorado and yellowfin tuna showing up as well. Here are some highlights of the week from our panga.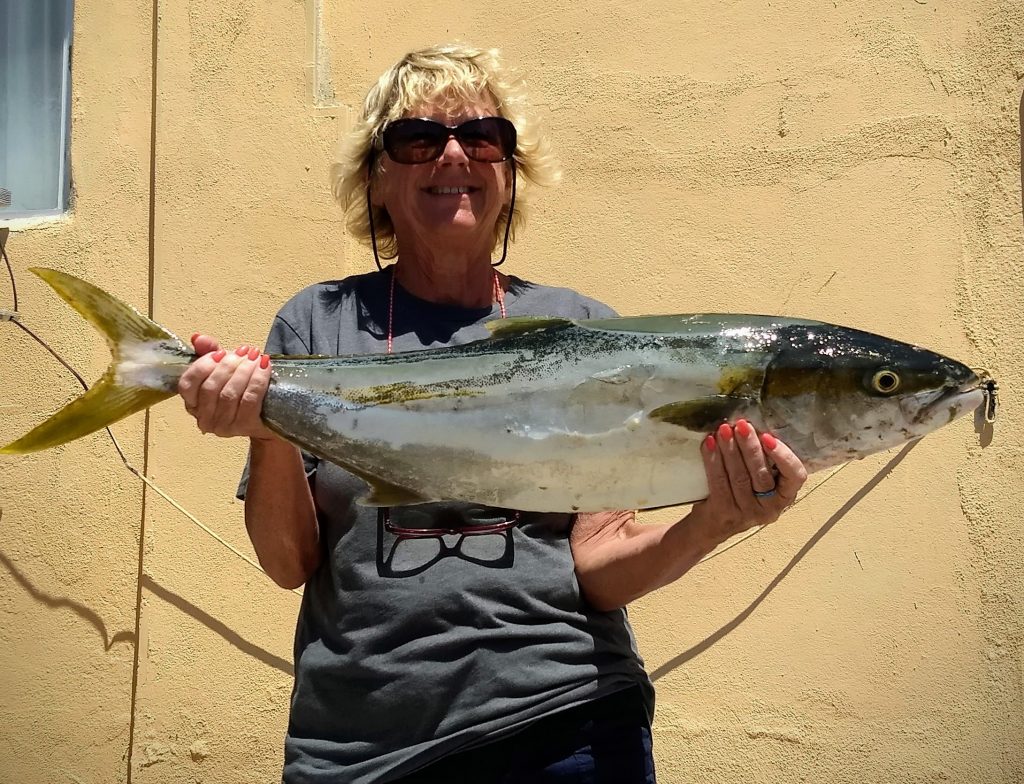 August 30/2020
Finally the ocean temps have warmed up to over 70 and the fish have moved in. Anglers are spearing & catching dorado, yellowfin tuna, nice size yellowtail, calico bass, bonita and grouper from pangas. Captain Juan Arce Marron got everybody on fish this week in great weather!
Shore fishing is hot for halibut and yellowfin croaker and corbina.